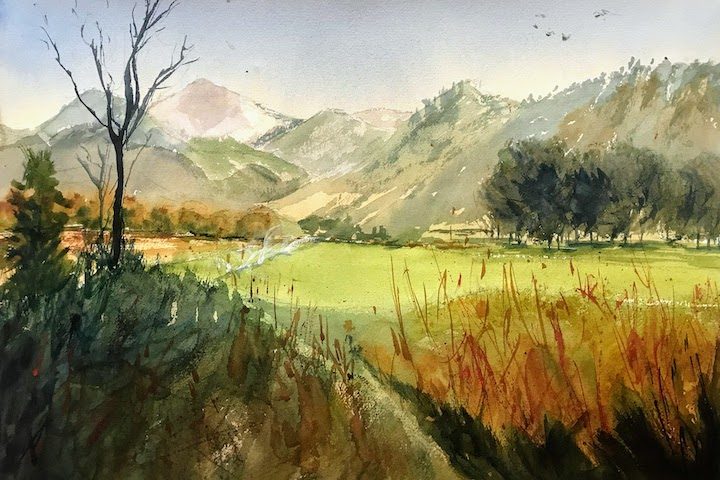 The Umpqua Plein Air Event is CANCELLED this year.
Our hearts go out to everyone impacted by the recent fires throughout the state of Oregon.
Our regular painting event is canceled, but the show must go on! We invite artists to submit up to three plein air works with the guarantee that we will put at least one of the works in the show that will be on display throughout October and will be available in a virtual tour to be featured on our website:
Exhibit dates: September 30 – October 30, 2020
This Exhibit is in honor of the burning landscapes throughout the state of Oregon, its forests, streams, rivers, mountains, animals and humans. Our hearts go out to all of the communities affected by the fires throughout the state.
The work must be painted within the last year, on location in the state of Oregon, and not previously shown at UVA. We invite you to submit up to three works. You will be notified on Sept 22 which paintings to deliver to UVA. Delivery days are Sept 25 from 9-4 and Sept 28 from 9-2.
Featuring a Pop-Up Exhibit of works by some of our esteemed past jurors:
This exhibit is currently up in two of UVA's Gallery's. Click below to schedule a visit to see this exhibit!
Above image by Debi Bates, watercolor on paper, titled, Keeping It Green
Payment and Refund Policy: Full payment at time of registration is required. Full refunds will be made in the event that the UVA has to cancel the event (workshop, class, Clay Place term, special program). Please be aware, should you need to cancel or change your registration 75% of your registration fee will be refunded up until two weeks prior to the start of the event. Cancellations made within two weeks of an event will be given a refund of 50% of the registration of the event. We are unable to refund registration fees on the day of or any days following the start of the event.
For a little inspiration to visit Douglas County!