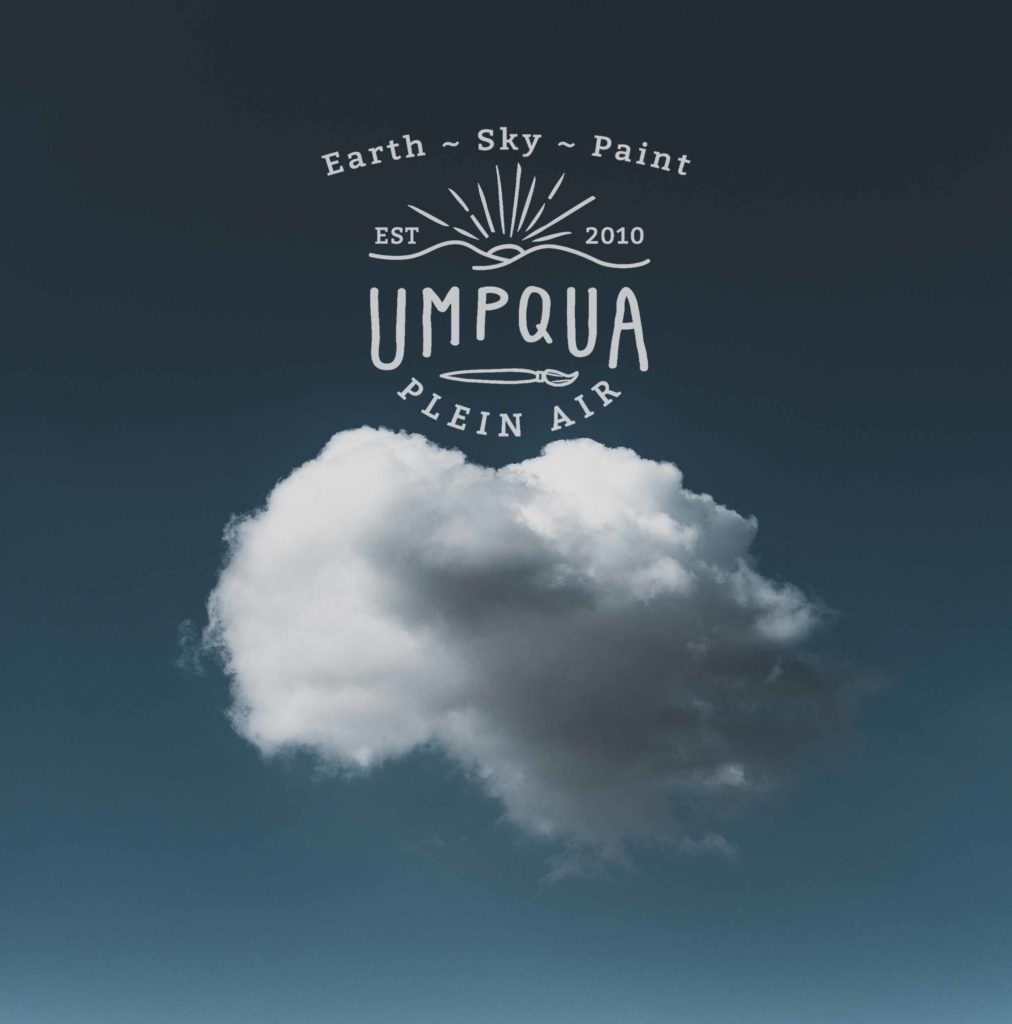 UVA is excited to bring Umpqua Plein Air back this year.  Don't wait to sign up because the deadline to get registered for the 2021 Umpqua Plein Air is August 1st. The event has been extended to five beautiful days of connecting with other artists and painting the incredible landscapes of Douglas County. If your schedule will only allow you to paint one or two days, that's okay! We know how full life is, so we set up the new schedule to accomodate you.  A google map loaded with a number of beautiful places to discover is available if you click the link below. You can scope your locations out ahead of time and come celebrate life and art with us…EARTH, SKY, PAINT the land of the Umpqua!
Click the buttons below to read all about this year's Umpqua Plein Air Event and to sign up.
Umpqua Valley Arts | Land Acknowledgement Statement
Umpqua Valley Arts Association acknowledges, honors and respects the indigenous people of this region, the Umpqua People, on whose ancestral lands the UVA building now stands. These include the Nahank' uotama (Cow Creek Takelma) and the Upper Umpqua Peoples who later became the Cow Creek Band of Umpqua Tribe of Indians and were incorporated into the Confederated Tribes of Grand Ronde. 
The Cow Creek Tribal areas include the Cascade and Coast Ranges in Southwestern Oregon, along the South Umpqua River, and its primary feeder stream, Cow Creek. This tribal area includes the Umpqua watershed and surrounding areas. The Indigenous peoples of the Umpqua Valley never surrendered lands or resources to the United States and there are Indigenous communities nationwide that are actively fighting for the preservation of sacred lands. 
UVA gratefully recognizes that the Umpqua Valley is made up of many diverse communities of indigenous peoples who continue to live, work and thrive in these lands today.
We invite you to join us in acknowledging all of the above as our shared responsibility and to consider our roles in healing the wounds of the past, so we continue to build a brighter tomorrow.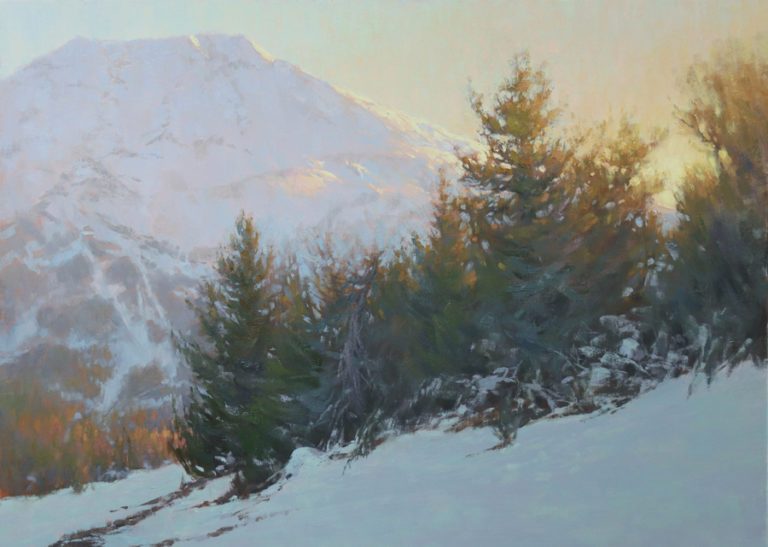 Mt. Bachelor from Tumalo Mountain Oil on canvas, by Barbara Jaenicke
UVA IS PROUD TO ANNOUNCE OUR GUEST JUROR: Barbara Jaenicke
"Painting isn't just a job or hobby for me. It's a passion. Maybe even an obsession. I try to paint the effect of the light in the landscape, and my response to it, rather than "things." To do this, I need to push beyond the basic mechanics of creating the work. No painting is ever easy for me. Each one challenges me to create that magic that goes beyond just a painting of a thing. That magic doesn't always happen in every single attempt, but it's those instances when the painting 'hits' that make it worth going through all the painful 'misses.'"
SAVE THE DATES:
Juror Talk and Orientation | August 19th from 3-5pm
Paint out dates | August 23 – 28, 2021 from Dawn to Dusk (you do not have to paint all of the days. You can paint a minimum of 1 day to accommodate your schedule!)
Exhibit dates | August 28 – October 29, 2021
YOUR HEALTH & SAFETY IS OUR CONCERN
As you are aware, COVID-19 has changed the way we gather… Umpqua Plein Air will see some changes this year to make your health and safety the number one priority. Here are just some of the highlights: 
The event will kick-off with an

Online

orientation and juror talk with a live Q&A session. 

The painting dates have been extended to allow more travel flexibility to our painters. 

Painters do not have to paintout all five days in order to participate in Umpqua Plein Air. If you can only participate in one or two of the paintout days, you may still enter your work in the competition!

Umpqua Plein Air highlight's incredible locations throughout Douglas County! Douglas County spans from The Coastal region to central Oregon! Featuring the stunning views along the North Umpqua River and the old town charm of Oakland! Don't forget the vistas from our local wineries. What a treat! Look for a spot that is closest to you and paint!

A demo with the 2021 Umpqua Plein Air Juror, Barbara Jaenicke at a beautiful private location (optional, but highly suggested)

The juror will pick 40 Awards of distinction, 1st, 2nd and 3rd place winners, as well as M. Graham and People's Choice Awards.

UVA will be giving a special reception to Individuals or Businesses who would like to commit to the purchase of an Artwork for UVA's Purchase Award Program. More details to come.  
 Umpqua Plein Air is an event very near to our hearts here at Umpqua Valley Arts and we look forward to welcoming you in the safest way possible!
Thursday, August 19th from 3 pm – 5 pm:
Umpqua Plein Air Orientation, Juror Talk and Q & A on Zoom
Monday, August 23rd at 9 am:
Umpqua Plein Air Check-In
Paint outs begin! See suggested locations and maps
Tuesday, August 24th from dawn until dusk
Time to get out there and paint!
Wednesday, August 25th from dawn until dusk
Time to get out there and paint!
Thursday, August 26th from dawn until dusk
Time to get out there and paint!
Friday, August 27th – Paint out day and artwork check-in
Final Paint out day!
Artwork Check-In – Artwork must be checked in by 5pm
Saturday, August 28th – Demo Day & Opening Reception!
9 am – noon: Demo with guest juror, Barbara Jaenicke, at the beautiful Ratzlaff Pavillion
3 pm – 5 pm: Opening Reception
40 awards of distinction: In the Hallie Brown Ford Gallery!

1

st – $500

, 2

nd – $300

& 3

rd – $200

place winners are announced at opening

M. Graham Award – Honorable Mention Award

People's Choice Award
Purchase Awards
Payment and Refund Policy: Full payment at time of registration is required. Full refunds will be made in the event that the UVA has to cancel the event (workshop, class, Clay Place term, special program). Please be aware, should you need to cancel or change your registration 75% of your registration fee will be refunded up until two weeks prior to the start of the event. Cancellations made within two weeks of an event will be given a refund of 50% of the registration of the event. We are unable to refund registration fees on the day of or any days following the start of the event.
For a little inspiration to visit Douglas County!