Opportunities for Artists
Welcome Artists! Umpqua Valley Arts is dedicated to the belief that the arts are an indispensable element of a thriving and meaningful community, and that ideas & art in its many forms should be available to all.
Our arts exhibition programming is inspired by our energetic community, the geography in which our organization is situated, and the unique history of our region and our institution. When we learn to appreciate art together, we are learning to acknowledge and respect the histories that bind us together, and the changing world that surrounds us.
Please see the list below for UVA's Artist Opportunities. We welcome both new (and returning) artists to submit work to our open calls. Please note the submission deadlines! 
ARTWORKS NORTHWEST BIENNIAL
DEADLINE TO APPLY: APRIL 16, 2021
Umpqua Valley Arts Association presents an open call for work by artists who reside in the Pacific Northwest for the 2021 Artworks Northwest Biennial: A regional juried art show of work from the Pacific Northwest (Northern California, Oregon, Washington, Idaho, Alaska, British Columbia, Western Montana, and Western Wyoming). Open to all media. 
Andries Fourie (2018), Stephen Hayes (2016), Scott Malbaurn (2017), Marie Watt (2015), and Ryan Pierce (2014) represent the long line of esteemed jurors we've had since the inception of AWNW. Open to all media.
UVA is honored to announce that the 2021 Artworks Northwest Biennial Juror is Grace Kook-Anderson Grace Kook-Anderson was appointed The Arlene and Harold Schnitzer Curator of Northwest Art in January 2017 at the Portland Art Museum.
POSTCARDS FOR A BEAUTIFUL WORLD
DEADLINE TO APPLY: March 15, 2021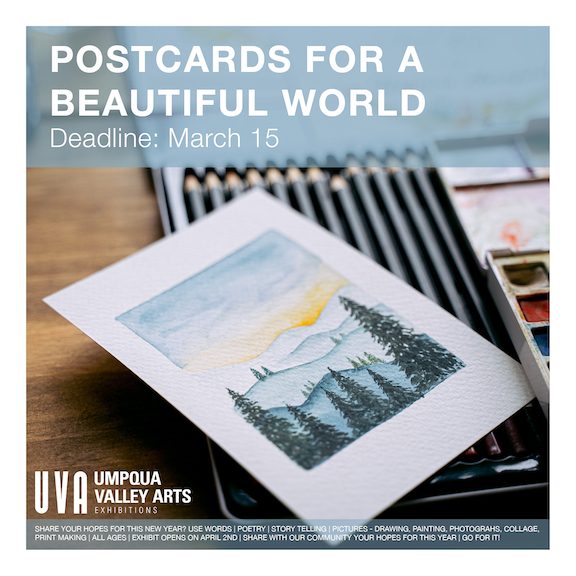 Deadline for submissions: March 15, 2021
Exhibit Dates: April 2 – June 4, 2021
Drop art off at gallery: March 29th, from 9-4​
We invite Artists from Douglas County to participate in a postcard/small works show, Postcards for a New Year. We are accepting up to 35-50 works, with no more than 3 pieces of art per artist. This show will be displayed in the Corridor Space gallery and online.
Theme: We want to see postcard-size art that describes your hopes for this new year. We've all had a rough 2020 and we're all looking forward to 2021 being a better year. What postcard do you want to send to the world? What message do you want to give to your community?
Requirements: All artwork must be under 5" x 7" (You can turn that vertically or horizontally. If framed, frame must be no larger than 5" x 7" or 7" x 5."
Use any medium: collage, digital, watercolor, acrylic. All oils must be thoroughly dry. If using charcoal or pastel, make sure artwork is well sealed with fixative. Please don't use glitter, and affix all media securely.
All ages welcome to apply!
No Fee to submit.
Click the Link below to Fill out the online registration form. No art will be accepted without a completed online form.
All submissions MUST have artist name and name of artwork listed on the back of work and this information MUST match what is provided on the Registration Form. If you have an artist website, you may list that as well.
Art may be for sale, and must be in the gallery to be listed in our online shop. 
Please name your image file like this: Your last name_Name of piece
Prices for postcards should be no lower then $20. There is no maximum amount, so artists can price their work as they see fit. Artist commission is: 70% artist 30% UVA Member and 60% artist 40% UVA non Member.
UVA Exhibit Proposals for 2022
DEADLINE TO SUBMIT PROPOSAL: JULY 15, 2021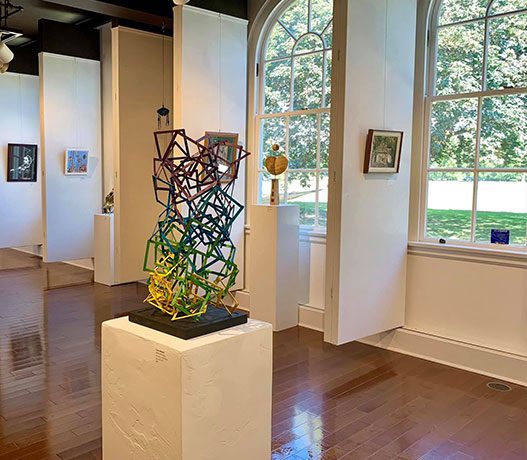 The Corridor, Gallery II, and Hallie Brown Ford Gallery operated by the Umpqua Valley Arts Gallery Staff, are exhibit venues for all artists with a focus on regional, national and international solo and group exhibitions.
We welcome exhibit proposals from all artists for the 2020 Exhibition year. Exhibit proposals are due on September 30th, 2019. With a focus on local, regional, national and international solo and group exhibitions. All themes and media are welcome. These exhibits help promote emerging, mid-career, and established. Exhibits usually rotate every six to seven weeks.
UVA Exhibit Proposals for Artist Members for 2022
DEADLINE TO SUBMIT PROPOSAL: JULY 15, 2021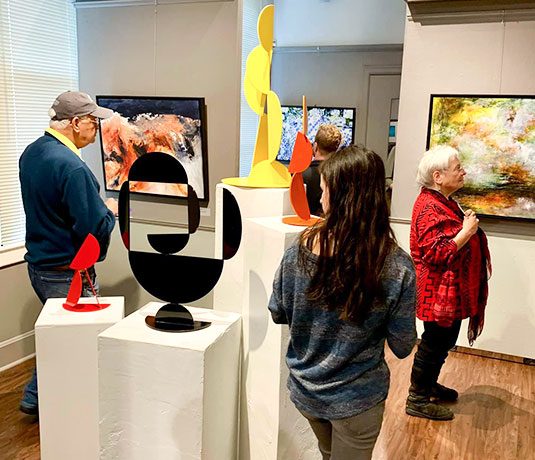 This is an opportunity for all UVA Artist Members to apply for an exhibit in the Red Door Gallery. The Door Red Gallery, measuring 150 square feet, exhibits help promote emerging, mid-career, and established Artist Members. Exhibits usually rotate every six to seven weeks.
We welcome all exhibit proposals from our Artist Members and thank you for your interest in showing at UVA. Creative approaches and content are always valued.
ACCEPTING APPLICATIONS YEAR-ROUND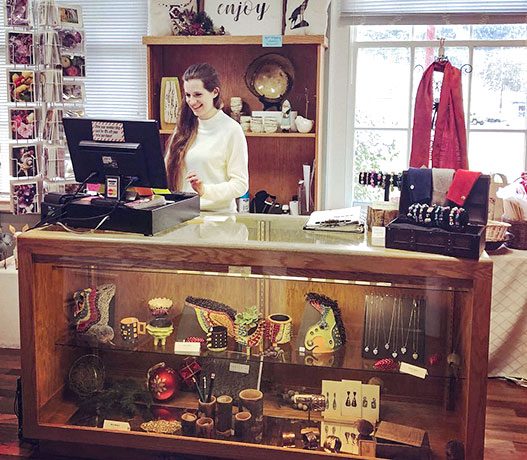 UVA has a small, but lovely Gift Gallery space that offers visitors an opportunity to purchase fine handcrafted art pieces and gives the opportunity for artists to sell works on an ongoing basis. Open to all Artists and all mediums, juried entries by Gallery Director, Sandee McGee.
If you have any questions or need to make special arrangements please feel free to contact Sandee McGee, UVA Gallery Director at 541-672-2532 or email at sandee@uvarts.com.