UVA's exhibitions are informative, stimulating and provocative featuring a broad range of local, regional, and national artists. UVA is committed to serving our communities through equitable and thoughtful art exhibition programming.
Current Exhibit: UVA'S MEMBERSHIP SHOW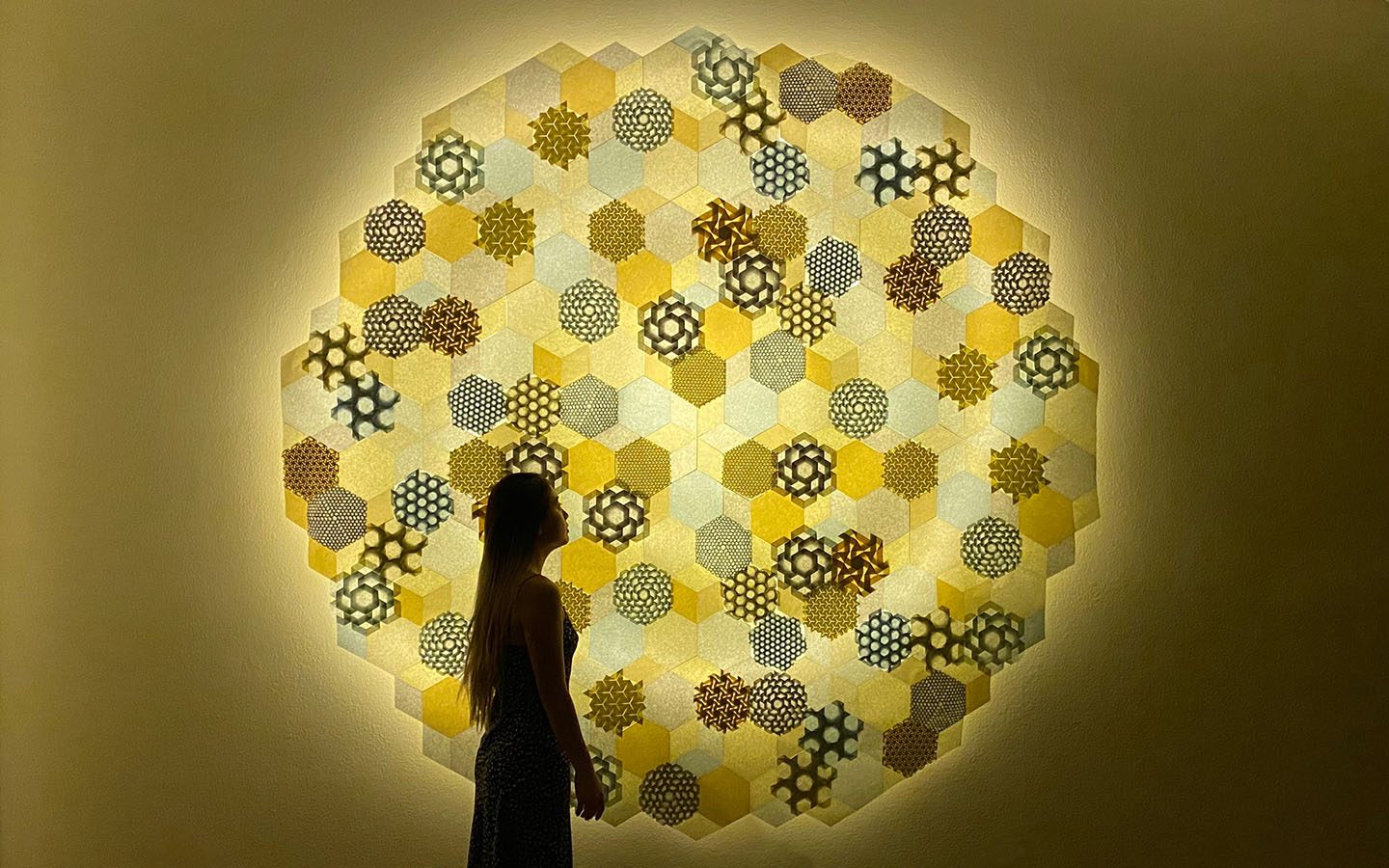 UVA'S ANNUAL MEMBERSHIP SHOW
Exhibit Dates: July 14th - September 18th, 2020
Every July the Umpqua Valley Art Center hosts a Members Art Exhibit. UVA's artist members share their artwork with the entire community. This event showcases their dedication to their studio practice and to the community through the making and showing of their artworks at UVA. To keep our beloved community safe we are opening up by appointment only. Schedule a visit to see this spectacular annual exhibition which showcases our local talent!
Due to COVID-19 Umpqua Valley Arts has been unable to celebrate this year's Membership Show in a face-to-face opening reception. We are open by appointment and we are proud to present a VIRTUAL TOUR of this spectacular show! Please click the button below to see the show in it's entirety and if you see a piece you LOVE and want to purchase, please call our Gallery Director, Sandee McGee, for any such welcome inquiries at 541-672-2532.
above image: Gradualism and Subitism by Artist Member, Stella Moon
The next best thing.....a VIRTUAL TOUR!​
Past Exhibits - Virtual Tour & Juror Talk
UVA put a call up for a show titled Intersections back in February! As you all know, COVID-19 put a stop to most things, but Umpqua Valley Arts managed to put this incredible show up, along with two others: Past, Present, Future a photography exhibit by the founders of Blue Sky Gallery in Portland and the incredibly detailed paintings of Colleen Goodwin-Chronister in her solo exhibit in the Red Door Gallery titled, Little Peeks. Umpqua Valley Arts is proud to present a digital version of the real thing featured below. Please read about the shows, take the virtual tour, watch the Juror talk with Tallmadge Doyle and we hope you enjoy!
Press Release for Intersections, Little Peeks and Past, Present, Future.
The Umpqua Valley Arts Center features virtual tours of three exhibits. 
Umpqua Valley Arts Association is proud to present a virtual exhibit in our Hallie Brown Ford Gallery for an exhibit titled: INTERSECTIONS. This juried exhibit explores the convergence of human invention, society, culture and the natural world. Humans have been inventing new technologies since the beginning of time however; there has been a significant increase in the rate of new technological development in the last few hundred years. These changes, while often beneficial, have a wide range of effects on human society, culture and the natural environment. With this exhibition we seek to emphasize these effects and show a  wide range of perspectives highlighting the promise as well as the cost of technology – not only Utopian visions and apocalyptic nightmares but also nuanced and subtle interpretations of the theme. The artists reside all over the United States.
In the Red Gallery, An exhibit of artwork by Colleen Chronister in her solo show titled, Little Peeks. Colleen works in her studio at home. Colleen says of her work, "Art is so much more than a pretty something or other.  It is an evocative visual statement that connects me, my viewer, and my subject.  My paintings invite the viewer to "step inside"—to smell, to feel, to hear, to taste, to see beyond the image on canvas.  My challenge with each canvas is to transform my subject into magically captivating two-dimensional art. 
My art is uniquely recognizable.  I love detail!  The tiny patterns of the world amaze me.  I love vivid color!  However, I rarely use more than a dozen colors.  I love texture, but instead of thickly applied paint, I use brushwork to create intricate patterns of minutia.  And finally, I love painting in multiple glazes to create color intensity and depth.
Nothing is more exhilarating than nature…except maybe more nature!  In my recent oil paintings, I have been exploring the square format with LARGE scale "little peeks" of nature not normally given a second thought.  I really believe that my exhibit here of contemporary realism paintings reflect our natural world but transcend it with a surreal magical quality that will inspire and captivate the viewer."
In the Corridor Gallery, a photography exhibit titled, Past, Present, Future. In October of this year, Blue Sky turns an impressive forty-four years old. Begun in 1975 as the Oregon Center for the Photographic Arts, Blue Sky has grown from the brainchild of five emerging photographers into an internationally renowned gallery for the exhibition of contemporary photography.  
In celebration of this considerable legacy, Executive Director Lisa DeGrace initiated Blue Sky Ahead, a two-part exhibition series that features current and past work by Blue Sky's founders—Ann Hughes, Christopher Rauschenberg, Craig Hickman, Robert DiFranco, and Terry Toedtemeier—and highlights the future of Oregon photography through the work of six emerging photographers: Ebenezer Galluzzo, Emma Kisiel, Jamila Clarke, Nolan Streitberger, Sam Wrigglesworth, and Troi Anderson.