Umpqua Valley Arts is dedicated to the belief that the arts are an indispensable element of a thriving and meaningful community, and that education in the arts should be available to all.
Our exhibition programming is inspired by our energetic community, the geography in which our organization is situated, and the unique history of our region and our institution. When we are willing to consider ideas & art together, we are learning to acknowledge and respect the histories that bind us together, and the changing world that surrounds us.
Current Exhibits
On view from November 6th to December 23rd, 2020
UVA is currently closed due to a statewide freeze for all galleries and museums. Please enjoy the virtual tour of these exhibits!
HALLIE BROWN FORD GALLERY
Habitat is a juried exhibit of member artists, Studio Art Quilt Associates from the Oregon region. "Habitat is a celebration of place. It is a reflection of the natural beauty and man-made creations that surround us. Most importantly, Habitat is a collection of thirty-five visual stories of the meaningful spaces, real and imagined, that provide us with a sense of comfort, reflection, inspiration, or maybe a needed escape" -Juror, Michael Fisher
CORRIDOR GALLERY
Traditional Landscapes in Black and White by Walt and Sandy O'Brien of Eugene, Oregon.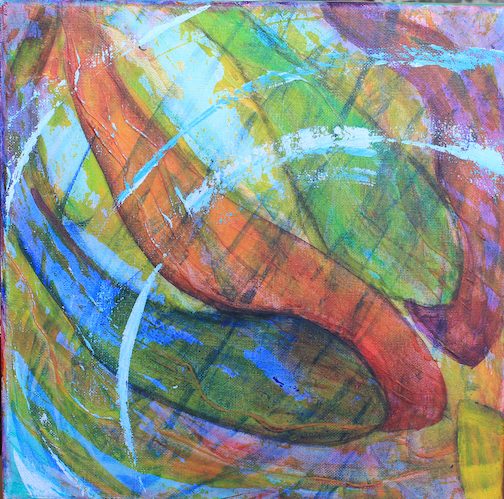 CORRIDOR GALLERY
Artist Member, Diane Williams' deeply expressive abstract paintings are on view in UVA's Corridor space. She is working with color, shape and form to re-approach painting with a voice uniquely her own. The proceeds from the sales of Diane's paintings goes to UVA.
Process: Color, Shape & Texture
RED DOOR GALLERY
Artist Member's Steve and Cindy Kenagy's work is on view in UVA's Red Door Gallery. Steve's Woodworks and Cindy's Clay Monoprints are tactile and vibrant in their organic shapes and colors. The works come alive as the light dances off the smooth surfaces of the wood and the textured sub straights. 
Northern Basin by Judy Hoiness
GALLERY II
"The Northern Great Basin lies East of Bend and below the Blue Mountains in Oregon; that an artist can capture the feeling of an area and create those feelings in a visual form; that there is more than one media  or combination of media that might be employed by the artist and  finally, encourage  all to take responsibility in some form towards preserving our precious Oregon landscapes." 
-Judy Hoiness
In UVA's Student Gallery:
Young Artists en Plein Air
Created in open air, the works featured in this show were made by students of all ages who participated in our Young Artists en Plein Air event. Students developed their skills outdoors using a wide variety of media, including oil pastel, pencil, watercolor, and acrylic.