Summer Arts Festival
Summer Arts Festival
FRIDAY: 12 PM – 9 PM  |  SATURDAY: 10 AM – 9 PM  |  SUNDAY: 10 AM – 4 PM
**Art Vendor Booths Close at 8 PM Friday & Saturday, while the Food Court and Main stage stay open until 9pm*
ADMISSION:  $5/person | Adult weekend pass $8 | Families: $15 weekend pass | Children under 6: Free
UVA is proud to present our 52nd Annual Summer Arts Festival. Situated in Roseburg's beautiful Fir Grove Park, the festival celebrates the Land of Umpqua's abundant creative talent, and attracts thousands of visitors each day.
Our Visitors Enjoy:
Over 130 local and regional artists offering hand-crafted works in all media
Fun-filled art projects for children in our "Kids' Zone"
A Community Art Project
Outstanding local artists offering demonstrations of how they work
Non-stop music, dance, and other entertainment on two stages
A food court featuring Umpqua Dairy, local BBQ, as well as craft beer and local wine
Bring your friends, listen to some great music, grab a bite to eat at the McMenamins Food Court, and browse the artwork & crafts of over 130 local artisans. Perfect for families to spend a summer day together having fun!
This event is brought to you by UVAA Volunteers, staff, sponsors and the SAF Committee.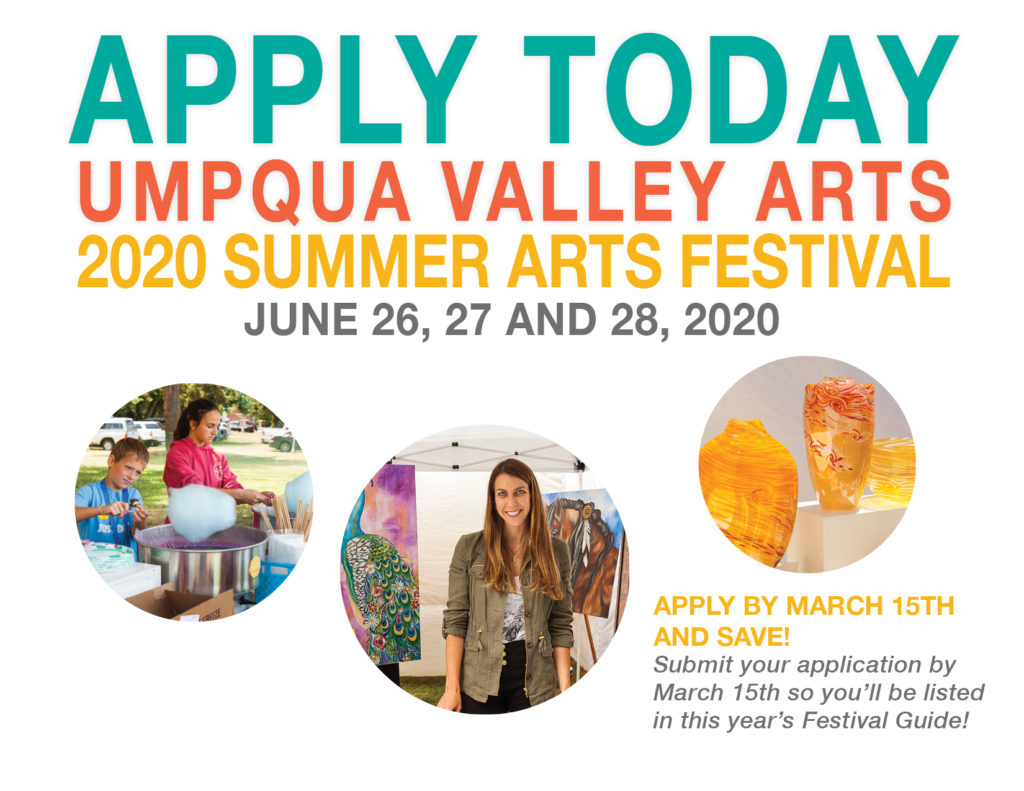 Click the links below to apply to participate at Festival this year:
APPLY TO BE AN ART VENDOR
Deadline is June 1st
APPLY TO BE A FOOD VENDOR
Deadline is March 15th
APPLY TO HAVE A NONPROFIT BOOTH
Deadline is June 1st
APPLY FOR A SPOT AT THE ROTATING NONPROFIT TABLE
Deadline is June 1st
APPLY TO BE ENTERAINMENT ON THE MAIN STAGE
(music) | Deadline is Feb 15th
APPLY TO BE ENTERAINMENT ON THE FAMILY STAGE
(community acts) | Deadline is Feb 15th
A special THANK YOU to our
Summer Arts Festival Sponsors!