Current Exhibits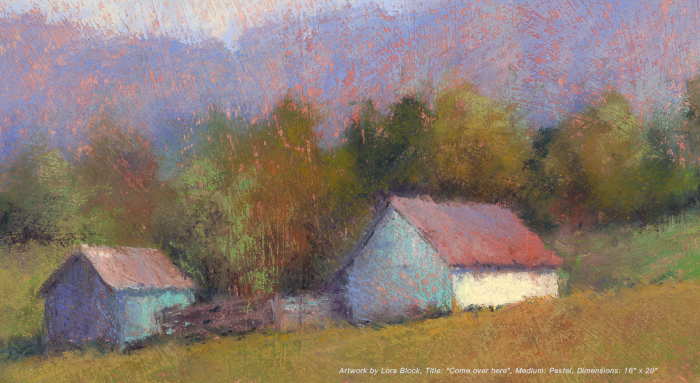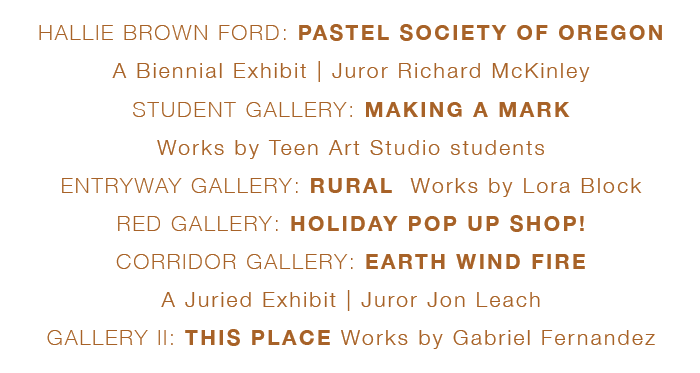 UVAA is proud to partner with the Pastel Society of Oregon to display their Biennial Exhibit."The mission of the Pastel Society of Oregon is to promote the medium of pastels through the education of the public and of the artists by way of exhibits, shows, competitions, and Plein Air painting. We promote our member artists on our website (www.pastelsocietyoforegon.com) and in this way. Enjoy your trip through our artists eyes." The juror for this year's Biennial is Richard McKinley. McKinley has been a professional working artist for 38 years. In 2010, he participated in the American Masters Exhibition at the Salmagundi Club in NYC and was inducted into The Pastel Society of America's Hall of Fame at the National Arts Club in NYC. His work is represented in several national galleries and is in the permanent collection of the Butler Institute of American Art Museum.

UVAA's Student Gallery features Making a Mark. Works by the teens from our drop-in Teen Studio class at UVAA in Roseburg. These works will be on view and will feature a variety of printmaking techniques including mono prints, silk screen prints, relief prints, and ink blotch monsters!

In Gallery II, the work of Artist Gabriel Fernandez will be on display. A Portland Oregon based artist, Fernandez paints environments – he captures the essence of places: empty rooms with chairs, suburban landscapes, and the occasional still life. Fernandez studied at the Pacific Northwest College of Art with a BFA in Painting in 1999. Recent shows took place during Palm Springs Art Fair at Woodman Shimko Gallery, Palm Springs, CA, Schomburg Gallery in Santa Monica, CA and Linda Hodges Gallery, Seattle, WA. Current work by Gabriel Fernandez can be seen at Guardino Gallery in Portland's Alberta Art District and at Seattle Art Museum Rental/Sales Gallery, Seattle. Notable public and private collections of Gabriel Fernandez's art are located in Los Angeles, Seattle and Portland.

The work of Lora Block will be featured in our Entryway space. Oregon established Artist, Lora Block, will have her work on display in the Entryway Gallery at the Art Center. Lora is a Roseburg artist who is a local representative of the Pastel Society of Oregon. Her work has been revered by the society, this community, and beyond. Block is an inspiration, a teacher, and a master in her own right. UVAA is proud to present and to celebrate the work of Lora Block.

In the Corridor Gallery, A juried exhibit broadly exploring the themes of Earth, Wind and Fire. The exhibit is open media and is the winning theme by UVAA'a Members! Our juror this year is Jon Leach. A native of Seattle, professional artist Jon Leach has a BFA in painting from the University of Washington. Curating and jurying numerous art exhibits, Jon also has an expansive background in literature, art history and film. Jon's work can be seen at galleries in Portland and New York.

In the Red Gallery, UVAA's Annual Holiday Pop Up Shop features high-quality work from outstanding local & regional artists, these handmade gifts are beautifully crafted and reasonably priced. This year's Holiday Pop Up Shop is full of one of a kind items that are perfect for special holiday gifts. Holiday Pop Up Shop will consist of handmade and hand dyed scarves, Jewelry, children toys, locally made soaps, ceramic dishes, bowls and coffee mugs, greeting cards, paintings, etc.
Resourceful Gallery Exhibit Documents