Current Exhibits
Current Exhibits, Featuring Exploring Layers
January 16 – March 13, 2015
Opening Reception: Friday, January 16  |  5 – 7 PM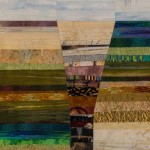 HALLIE BROWN FORD GALLERY:
Exploring Layers (January 16 – February 27)
Exploring Layers is an exhibit of textile art featuring work from the Oregon and Southwest Washington members of the Studio Art Quilt Associates. The theme "Exploring Layers" has stimulated their members to create many pieces expanding the boundaries of contemporary textile art (fiber art/ Quilt making). This work explores many layers of thought and an expanded view of fibers as a medium. The curators for "Exploring Layers" are proud to present this work to the Oregon public. This exhibit seeks to further promote quilting and its evolution from craft to artform.

Clay Place Pop Up Show (March 6 – March 13)
A special pop up show displaying work by students from our Clay Place Classes.
---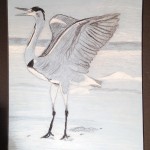 STUDENT GALLERY – JoLane and Fremont Middle School Collaboration Show
In our Student Gallery, we'll be featuring a collaboration between JoLane and Fremont Middle Schools. The work in this show is a unique merging of artworks that span a wide variety of media.
UVAA's Student Gallery is sponsored by Northwest Community Credit Union
---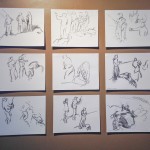 GALLERY II – Susan Rudisill
Raised in Pennsylvania, Susan Rudisill graduated from Swarthmore College and later studied at Philadelphia College of Art; the New York Studio School of Drawing, Painting, and Sculpture; and the Vermont Studio School. Rudisill has worked professionally in folk arts education, arts management, social services, publications, and graphic design. Rudisill's approach to her work emphasizes drawing from observation, with the figure or landscape as subject. Apart from working with representational subject matter, abstract matters of space, line, planes, and composition drive her exploration. For the past four decades she has primarily worked on location (aka "en plein air"). Currently, she has shifted her focus to the challenging study of the figure in the landscape and to experimenting with new media and techniques.

---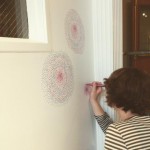 CORRIDOR GALLERY – Ephemeral
The Alcove and Corridor Galleries is where the work of artists Yoonhee Choi, Renee Couture, Sarah Morejohn, Sandy and Jeremy Smith,
Sandee McGee and Renee Richardson will be on display. Ephemeral is a site-specific installation featuring expanded notions of drawing as the artists work directly on UVAA's Corridor Gallery walls. These large scale works will only be on view at UVAA between January 16th through March 13th and then erased completely, never to be seen again. 
---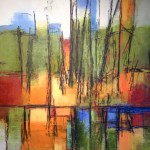 ENTRYWAY – Cynthia Herron
The work of Cynthia Herron will be featured in our entryway and the Gallery Manager's office space. Herron's subjects are the wetlands, fields, coasts and rivers of Oregon. She notes such things as weather, time of day, light and color nuances. These later inform Herron's oil paintings in the studio. Each unique painting is the product of being in a particular location, and the memory of that experience. Cynthia, born in Ohio, lived in New Mexico and Arizona from 1980-2004 before moving to Salem, Oregon. She received her BFA in painting from Mount Allison University in Sackville, New Brunswick, Canada; her Teaching Certification in 1994 from Northern Arizona University in Flagstaff, Arizona; and her MFA in painting from The University of the Arts in Philadelphia, Pennsylvania in 2003. Since 1995 she has taught painting and drawing at the college level and currently teaches foundation art classes at Chemeketa Community College in Salem.

---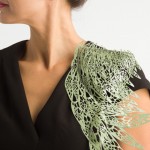 RED GALLERY – Courtney Kemp and Lyndsay Rice
In the Red Gallery, Artists Courtney Kemp and Lyndsay Rice will have their work on display in a two-person show. Kemp's new body of work explores the narratives of youth, transition, and rebellion through fragmented architectural spaces and objects. The complete body of work, entitled Youth & Progress, spans two galleries concurrently: Kemp's work has been exhibited in both national and international galleries, including Disjecta Gallery (Portland, OR), SOFA New York 2011, Galleri Puls (Norheimsund, Norway), and Heidi Lowe Gallery (Rehobeth, Rhode Island).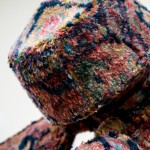 Lyndsay Rice sources patterns from acclaimed fashion designer Alexander McQueen's 2010 series, Plato's Atlantis, where animal skins were digitally manipulated into fabric patterns. Her work appropriates the patterning from a specific dress within the series and replicates it in industrial materials, creating jewelry objects that become skin again on the body. Lyndsay Rice currently lives and works in Madison, Wisconsin. Her recent exhibitions include: Annual Lecturer Exhibition," Art Lofts Gallery, Madison, Wisconsin; "Aposematic Appropriations," Museum of Contemporary, Craft; Portland, Oregon; "Multiples Show," Heidi Lowe: The Jewelry Studio, Rehoboth, Delaware, "Coated" The Studio, Brooklyn New York.

Exhibits at the Umpqua Valley Arts Association are always free, and are open to the public from 10 a.m. to 4:00 p.m. Tuesday through Friday, and from 10:00 a.m. to 2:00 p.m. on Saturday.